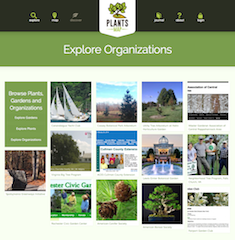 Plants Map is reaching out to non-profit organizations like plant societies, garden clubs, public gardens, arboretums, neighborhood parks, botanical gardens, community gardens, civic tree programs and others to join Plants Map. One of our goals is to connect people who want to explore and discover plants, trees, and gardens to related non-profit organizations.
For more information visit: Non-Profit Organizations on Plants Map 
Explore Organizations at: http://plantsmap.com/explore/organizations
Grow your world on Plants Map: Explore, Map, Discover.