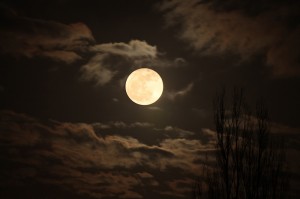 There seems to be a strong connection between the moon and gardening. Since ancient times their were civilizations that used the moon and the stars to guide their agricultural practices. Today, Moon Gardens, simply a collections of plants that glow by the light of the moon, have become a popular theme in many public and private gardens.  And then there are those that just love a good excuse for a garden party… like a full moon.
Let's have a Full Moon Garden Party! What better reason to have a party than a Full Moon or Super Moon garden party! A couple years ago my husband and I decided the best time for a party was on a summer full moon. So we found a full moon that landed on a weekend and hosted a Full Moon Garden Party in July. Everyone loved the idea and we had a great turnout. The moon didn't make it's full appearance until about 9:45pm.  But it was a gorgeous evening and it was fun time spent with friends in our garden awaiting the guest of honor. It was such a hit the following year a friend of mine asked to borrow the idea and hosted the next Full Moon Garden Party.  For some fun garden party ideas see  www.pinterest.com/plantsmap/garden-parties/
What is a Supermoon? There are three Super Moons coming up in 2014: July, August, and September.   I had never heard of a supermoon until last year. Not to be confused with a full moon, a supermoon is defined as "a new or a full moon which occurs with the moon at or near (within 90% of) its closest approach to Earth in a given orbit" (Richard Nolle, astrologer). When a supermoon is a new moon as well as the 2nd new moon of a month it is can also be referred to as a Black Moon.  Having two  super moons in one month is rare and the next occurrence is 2018. To read more on Supermoons see: http://earthsky.org/space/what-is-a-supermoon.
Moon Gardens are a collection of plants that magically glow during the late evening hours by the light of the moon. Plants that have white, yellow, pale pink or lavender flowers and plants with variegated or silvery foliage appear to glow the brightest. I think of  astilbes with light color plumes, pale yellow daylilies, white petunias and pale pink flowering tobacco, white hydrangeas like Limelight, Snow Queen, or Annabelle.  I also think of foliage plants like a variegated caryopteris, dusty miller, artemisias (wormwood), white caladiums and hostas with large white margins on the foliage and white or pale lavender flowers. There are also plants that bloom only at night like four o'clocks, evening primrose, and angel's trumpet to name a few. Night flowering plants also tend to be very fragrant. So make room for some moon garden plants and you will enjoy their magic on a midsummer's eve by the light of the moon. To see some moon gardens and plants go to www.pinterest.com/plantsmap/garden-themes-moon-garden/
For more information on plants for a Moon Garden see:

Gardening by the Moon? Lunar gardening or Agricultural astrology has been around for thousands of year with evidence of ancient civilizations relying on the skies to guide them in their growing of crops.  It is basically performing certain garden tasks and chores based on the phases of the moon and other astrological signs, has quite a few followers. I for one do feel there is some merit to the technic. While I don't perform all my chores around it, I do sometimes use it as a guide for the best times to start seed and best time to prune. For instance if  you prune during a waning moon that can control growth. Pruning during a waxing moon is to encourage growth.  There really is no scientific proof to this. But I can say based on my own observations I see some relevance.  While I can find skeptics of moon gardening, there is no scientific research to disprove it either. The only theory the skeptics have is that those that are more in tune with the natural world, nature and the cycles of the moon and weather seem to be more observant make better choices and time decisions better.
For more information on Gardening by the Moon see: