Posted by
justtracy

| Posted in Orchids | Posted on 23-02-2013
I strongly encourage you to go Orchid exploring…locally!  Two great events in the Richmond (VA) area.
Today I enjoyed a Hawaiian Paradise….just what I needed on a cold, dreary winter day in Virginia.  I went to The Virginia Orchid Society 2013 Orchid Show: Hawaiian Paradise (February 22-24) at Strange's Garden Center.   There were over 600 orchids on display. Admission is Free and open to the public. And you can vote for your favorite artfully designed exhibit. There were vendors offering orchid plants and supplies, jewelry, and art.  See below for info on the lecture schedule for Sunday.
I t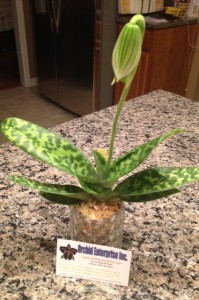 old myself I was only going to look and not buy.  But somehow I did come home with a new orchid from Orchid Enterprise inc.  My latest edition is a Paphiopedilums Maudiae 'Napa Valley' (lady slipper family).  Most Orchids are actually not hard to grow and the vendors usually will give you lots of tips to keep your Orchid happy and blooming. And there are price ranges for just about all levels of collectors.
Sunday, February 24th 10am – 5pm
Lecture schedule  (*Lecture times & topics subject to change)
11:30am – Choosing the Right Orchid to Grow in Your Home
12:30pm – General Care for Your Slipper Orchids
1:30pm – Popular Orchids and Growing Them at Home
2:30pm – Oddball Orchids You Can Grow at Home
3:30pm – General Orchid Care
If you can't make the Orchid Society Show this weekend (or can't get enough Orchids), visit the Lewis Ginter Botanical Garden for  Orchids Galore! : A Love of Living Color exhibit; Feb. 14 – March 31 from 9 a.m. – 5 p.m. daily.
If a bit of Tropical experience in February, go visit the Orchid Society Show or Orchids Galore at Ginter and take in the beauty and fragrance of more than 600 flowers in bloom.