Where did February go? It passed so fast we almost forgot to write the Plants Map monthly update!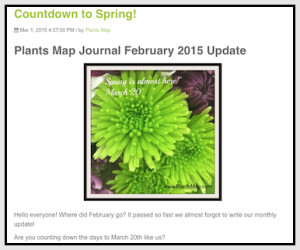 Are you counting down the days to March 20th like us?
Before we get started, we want to thank and welcome the many new profiles grow the community of people interested in plants and gardens. If you haven't visited recently check out our Explore page and see what's growing. We also added maps on several new pages on the site and now you can drag and drop the pin to locate your plants and build your garden map. You can view the community map page by clicking here. 
Read more at http://info.plantsmap.com/blog/countdown-to-spring