Posted by
justtracy

| Posted in Weather | Posted on 09-06-2013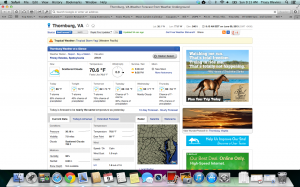 Our Davis Instruments weather station is back up and running. We are now located at Finney Estates in Spotsylvania VA (22551)….otherwise known as Thornburg.
We are amateur weather observers that obsess about things like how much rainfall did we get, how cold was it last night, how hot was was it yesterday?  I also study it to predict if we are going to have a frost that evening based on dew point and other factors.
Check it out: Finney Estates Weather Station
Note: Our wind instrument is accurate but not in the optimum location yet. Still looking for someone that can mount it on our roof.