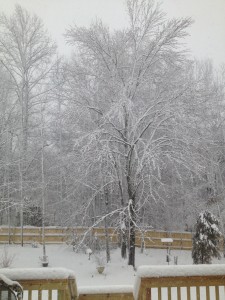 The mid-atlantic has experienced heavy wet snow today followed by increasing wind. This can equal a lot of damage to trees and shrubs.  There is always the debate about wether you should or shouldn't go out and knock the snow off your highly prized woody ornamentals and trees.  I prefer to wait and see what Mother Nature can do before I intercede.
Earlier this morning the branches of my maple were dropping heavy. The winds gradually started to increase and the snow began to shake loose off the branches. I look at it now and it is totally free of snow. Same with my evergreens and little shrubs.
Snow removal is a touchy subject. If the wait and see approach doesn't work and it is painful to watch your tree branches bent over, then most sources recommend using a broom to gently (keyword), brush with an upward stroke, the branches of your trees and shrubs. I don't recommend going out in fowl weather, risking your own life and limb to do this.  And use caution for own safety.
The best thing that you can do to prevent a lot of winter damage, is to keep your trees an shrubs pruned properly.  It is also advised to not encourage new growth in the fall buy fertilizing or pruning.  Below are some additional resources on minimizing winter damage to your trees and shrubs. And if you do need damage control, always use a an ISA Certified Tree Care Service or Arborist.
VCE Managing Winter Injury to Trees and Shrubs